7 Natural Tips for Repelling Mosquitos ...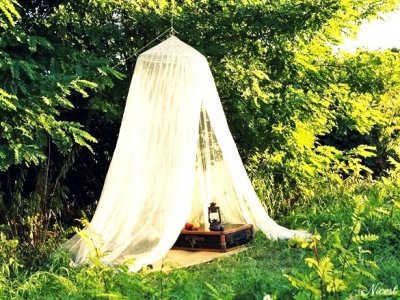 Using natural ways to repel mosquitos may appeal to anyone who likes environmentally friendly options. When using natural mosquito repellents, it´s often a case of trial and error – what works for one person may be totally ineffective on another. But since mosquitos are such a nuisance, it´s worth trying anything! So here are some natural mosquito repellents that may be the answer for you …
One of the best-known natural mosquito repellents is citronella. It´s available in a number of forms, such as incense sticks, candles, and essential oil. I dilute the oil and use it to make a spray – if rubbed in carefully and covering every inch of skin, it can be quite effective. You can also grow citronella plants, which are considered to be the most effective form of all.
Vitamin B is also believed to be a natural mosquito repellent. Opinions vary as to which form is most effective, and you may have to experiment to find the one that works for you. Whatever you choose, start early in the season, so that the vitamin B has a chance to get well and truly into your blood before the first mossie comes biting!
Brewer´s yeast was recommended to me as one of the natural ways to repel mosquitos. I did find it effective at first, though not so much later on, but then I didn´t start taking it until late in the season. If you do try it, the tablets are probably more palatable – the powder has a bitter taste (although that is reduced when mixed with soya milk).
If you are fond of the smell of lavender, plant some in your garden, as it´s supposed to get rid of mosquitos. Personally I dislike it, although I could probably learn to love it if it drove off those pesky mosquitos! You could also use lavender essential oil.
Do you have any sandalwood incense sticks? You may have bought them because you like the smell, but apparently mosquitos don´t share your tastes! Sandalwood is supposed to repel them, so give it a try – incense sticks are cheap, and if it works you´ll be very happy!
Herbs are a good choice if you want to try natural mosquito repellents – they smell good, look nice, and are easily available. Catnip is regarded as a natural deterrent (and your cats will love it). You can also try marigolds, lemongrass and basil – some of which will be good in your cooking as well!
If you want a product that you can apply, then choose one of the natural mosquito repellents on the market. There are many companies catering for people who don´t want to use harsh and strong chemical products. Ask in your local drugstore or health food store, or do a search on the internet.
Natural mosquito repellents are a great choice for people who don´t like using chemicals or who have sensitive skin. I suspect that with anything you take internally, such as the brewer´s yeast, it is essential to start early before the mosquito season kicks in. Have you found any effective and natural ways to repel mosquitos – I´m sure we will all be incredibly grateful if you can share them with us!
Top Image Source: nicestthings.com
{{#comments_count}} Show Commnents ({{comments_count}}) {{/comments_count}}