If you're looking for natural remedies for everyday ailments, here are some amazing teas to try for medicinal purposes! For centuries, different cultures from around the world have used herbs to treat various ailments in the body. There isn't strong scientific evidence to support their medicinal uses, but naturopathic practitioners do use botanical treatments as a legitimate form of medicine. I think you're going to love the assortment of teas to try for medicinal purposes that are listed below!
---
1

Traditional Medicinals Organic Nettle Leaf Tea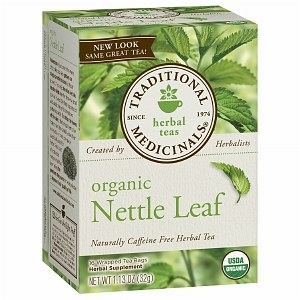 This is a slightly bitter, refreshing tea known to support the body as a whole. The nettle leaf contains many vitamins and minerals that are considered beneficial for pregnant women. Some cultures even consume the leaf in cooked form - apparently it tastes like spinach! Nettle is known to support healthy kidney function by reducing inflammation of the urinary tract. It also acts as an antihistamine for allergy symptoms. Talk about one of the outstanding teas to try for medicinal purposes!
---
2

Yogi Bedtime Tea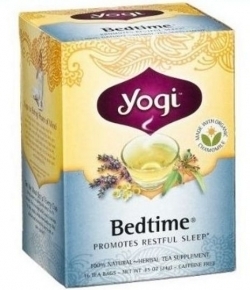 This is my favorite tea for relaxing! It has valerian root and camomile that promotes restfulness. The prominent licorice root, cardamom, and cinnamon make for a delicious sweet blend. I drink it also when I have a sore throat coming on and it seems to help with clearing it! All the Yogi teas are fantastic and a lot of them come with valerian root that gives it a natural sweetness so there is no need to add sugar or honey.
3

Good Earth Tea for Colds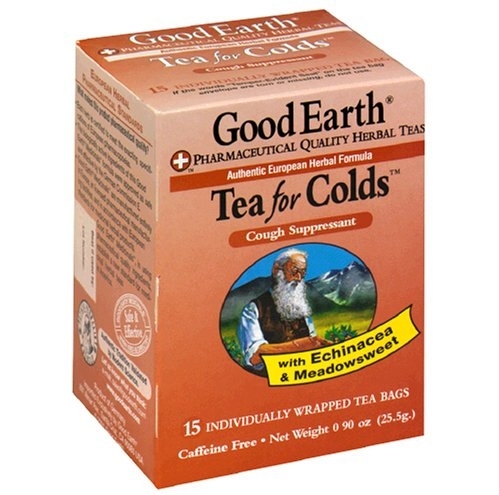 Good Earth Tea began in the 1970s as one of the first herbal tea brands. It's branched out and is now part of the Tata Beverage Group - the largest India headquartered multinational in Northern America. Good Earth Tea For Colds temporarily relieves cough and cold symptoms because it contains menthol, echinacea, peppermint, the meadowsweet flower and wild thyme herb.
---
4

Celestial Seasonings Wellness Detox Tea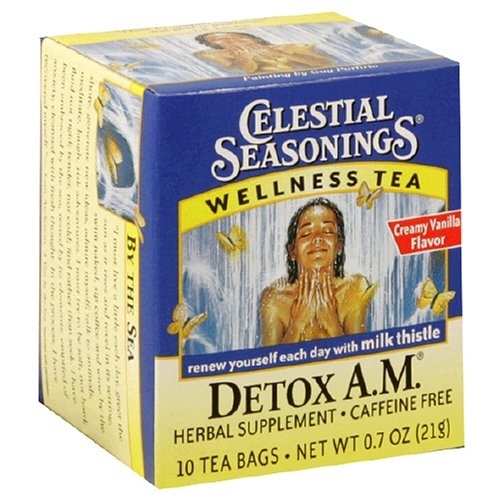 Our bodies are exposed to natural toxins on a daily basis from the foods we eat, to the elements in the environment. Wellness Detox tea combines the herb milk thistle that'a been used for centuries to promote healthy liver function, echinacea and botanicals such as dandelion root, red clover and green rooibos. This vanilla flavored tea helps to cleanse your system and boost your body's defenses.
---
5

Choice Organic Energy Boost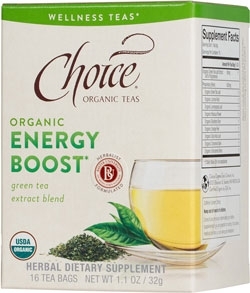 This tea is caffeinated, unlike the others listed here. Energy Boost contains green tea, which is a great energizer and supporter of the immune system. Green tea is also known to support cardiovascular and oral health, as well as the skin and metabolism. It contains lemongrass, and hibiscus flower, and eleuthero root adds to its light fruity flavor. So, if you need a little boost of energy and immune support, this is the tea for you!
---
6

Dr. Stuart's Skin Purify Tea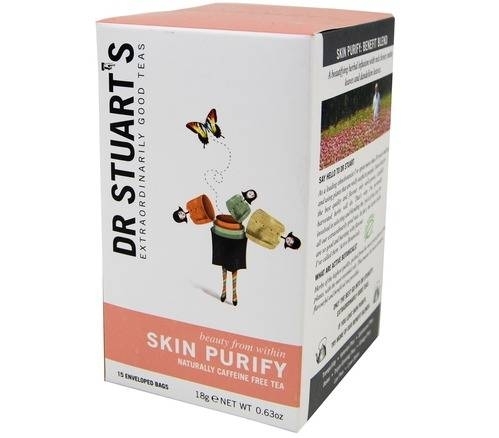 This tea brand is from a world-renowned herbalist based in England. I read reviews for this specific tea and they were all saying it is amazing for soothing inflammation and acne. I get acne about twice a month, which is hormone related, so I would be interested to try this tea out! This herbal infusion contains red clover, nettle and dandelion leaves, burdock root, chamomile, lemon balm and lemon peel.
---
7

GT's Organic Raw Kombucha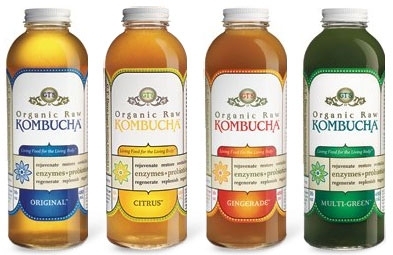 Kombacha is actually not a hot herbal tea, but a fermented raw tea. It contains live bacteria that aids in digestion (probiotics). We all know that probiotics are beneficial for good gut bacteria and usually these come from live cultures found in cheese and yogurt. The good news is that Kombucha is a wonderful alternative to harsh dairy products and it tastes great with all their wonderful tangy flavors. It does contain trace amounts of alcohol so some places may card you!
My sister actually hand picked and presented me an assortment of teas for my last birthday and not only do I love them, but previously I was very picky about my teas. Now I love herbal tea, even though some have a strong bitter taste, but that can be overcome by adding a little honey. Do you have any favorite teas that you drink regularly?
Sources: bokusuperfood.com, yogiproducts.com, amazon.com, celestialseasonings.com, shop.choiceorganicteas.com, amazon.com
---
Comments
Popular
Related
Recent