7 Vegan Meal Replacement Powders That Taste Great and Will Have You Going Strong for Hours ...
By Heather
Many people replace typical sit-down-to-eat meals with vegan meal replacement powders, which are used in smoothies to substitute for a standard meal. Though some of these raw meal replacement powders are used as a way to diet, they can alternatively be used as a simple on-the-go solution to someone with a busy or hectic lifestyle. In my case, they're much more cost-efficient than buying animal-based sources of protein and supplements that contain less concentrated nutrients per serving. I'm all about eating whole foods, but let's be honest. We are busy people and sometimes, we need a quick solution to get in high nutrition. This is where high-quality meal replacement comes in handy, and I'm not talking about those programs that advertise products full of additives, that lack vitamins and minerals, or contain excess salts, additives, fillers and sugar. These are not the type of meal replacements I use, or ones that I'm going to share with you. Instead, I'm going to show you my favorite vegan meal replacement powders that have no stimulants, most are organic and/or raw, they have no MSG, are gluten-free, soy-free, added-sugar free and dairy-free. These powders should be used in a whole foods smoothie, or mixed with your favorite nondairy milk, nonfat organic regular milk, or even organic yogurt. I chose my favorite vegan meal replacement powders based on quality, taste and nutrition. Enjoy!
---
1

Garden of Life Raw Meal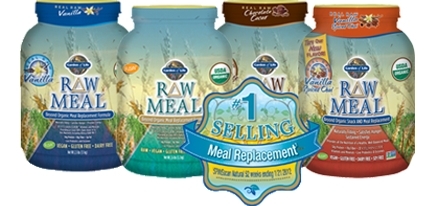 Garden of Life's Raw Meal is hands down one of my top favorite vegan meal replacement powders. First, it contains a whopping 17 grams of protein in one scoop, which is only ½ a serving. In this same size serving, you're getting superfoods like sea veggies such as spirulina, chlorella, and superfruits like gogi, acai, and blueberries. Also included in Raw Meal is the amazing probiotic complex and sprouts blend, containing only live sprouted grains and seeds. The probiotics in Garden of Life's Raw Meal are ones that I credit healing my digestion, sugar cravings and overall IBS. I also credit this meal replacement to keeping me full longer than normal protein powders do, as well as giving me plenty of energy throughout the day. Lastly, it contains 100% of all the required vitamin and minerals for the day, digestive enzymes to aid in digestion, and a great source of fiber to help with regularity. Not only is it 100% raw and vegan, but it is also low in natural sugars and completely gluten, dairy, and GMO-free. It also has no fillers of any kind, additives or preservatives. Raw Meal comes in six flavors including the Unflavored Original, Chocolate, Vanilla, Vanilla Chai Spice, and two of the newest flavors, Yerba Mate and Coffee flavors, which will hit the market in fall 2013. You can learn more at gardenoflife.com.
---
2

Amazing Grass Amazing Meal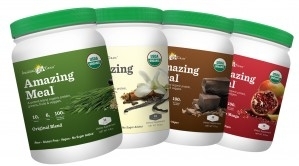 Amazing Grass has always been one of my favorite companies to buy superfoods from. Their Amazing Grass Raw Green Superfood Cacao Infusion has been a mainstay in my superfood collection, and their Amazing Meal goes just a step beyond their amazing superfood powder. Amazing meal contains all the benefits of Amazing Grass superfood that contains wheat grass, spirulina, gogi berries, acai, maca, probiotics, enzymes and more, plus the added protein and fiber of 100% raw sprouted rice protein and hemp protein. It contains 90 calories and 10 grams of protein per serving and contains 6 grams of fiber. It is low in fat and rich in nutrients. The Morning Mocha blend contains Yerba Mate tea and Green Coffee Bean Extract, which is one of my favorite flavors, but I love the Vanilla Chai flavor as well. Amazing Meal is 100% raw, has no soy, gluten, dairy or sugar. It is available in Pomegranate Mango, Chocolate, Vanilla Chai, Morning Mocha and a Natural flavor. You can learn more at amazinggrass.com.
Trendinig Stories
More Stories ...
3

Vega One All in One Nutritional Shake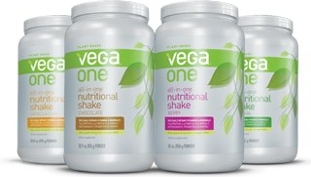 Vega is an outstanding vegan powerhouse in the field of nutritional supplements, athletic products and meal replacement powders. Their Vega One All In One Nutritional Shake completely changed the playing field for meal replacement powders when they added in advanced nutrients for athletic performance and recovery. Anyone can use Vega One, however, not just athletes. It comes in great flavors such as French Vanilla, Vanilla Chai, Natural, Chocolate, and Berry. All flavors taste great and I've personally used them all before on a regular basis. Vega One contains the benefits of raw, high nutrient superfoods like Sacha Inchi seeds, hemp seeds, chia, flax and sprouted brown rice protein for a high protein content, along with cleansing and energizing chlorella, superfruits like gogi, acai, and maca, along with veggies such as broccoli, kale, alfalfa and more. Vega One definitely keeps you full for longer periods of time than straight protein powders do, and it is also allergen-free and added-sugar free. I personally enjoy this when I've worked out fairly heavily, as it is excellent for muscle recovery. Vega One also contains probiotics and enzymes to aid digestion. You can learn more here: myvega.com.
---
4

Olympian Labs Inc., Ultimate Greens Protein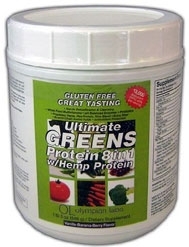 This is one of the newest vegan meal replacements to my knowledge, but one I'm excited to tell you about! This brand features some unique features that other brands don't have, including the flavor profile. First, let's talk nutrition though. Along with fiber, plant proteins and superfoods, this meal replacement powder also has no sugar, is gluten and soy free. Since it is vegan, it is also dairy free. With 6 grams of fiber, a wonderful fruit and veggie complex to give you multiple servings for the day, protein from organic hemp seeds, plus added enzymes and probiotics, this superfood meal replacement powder is definitely one to try! The flavors are my favorite part. This product comes in a delicious standard Vanilla and a unique Berry Banana Vanilla flavor, which is different than anything I've ever tried before. You can find out more about this product here: olympianlabs.com.
---
5

Now Foods Tru-Food Vegan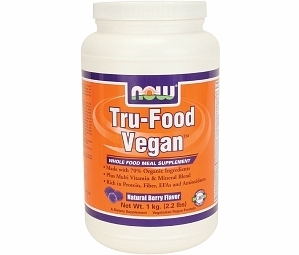 I love Now Foods products. They produce high quality allergen-free supplements for the most part, which are really effective, affordable and non-GMO. Many are organic as well. Their Tru-Food Vegan meal replacement powder is almost identical in nutritional content to Vega One Berry, except at a much more affordable price. I've tasted it and it is delicious, and also held me over very well. It is made from sprouted proteins from rice, hemp and chlorella, along with spirulina, and superfoods like maca, acai, and gogi. It also contains fiber, probiotics, enzymes and multiple servings of veggies just like Vega One. You can learn more about this product here: iherb.com.
---
6

Paradise Herbs ORAC-Energy, Protein and Greens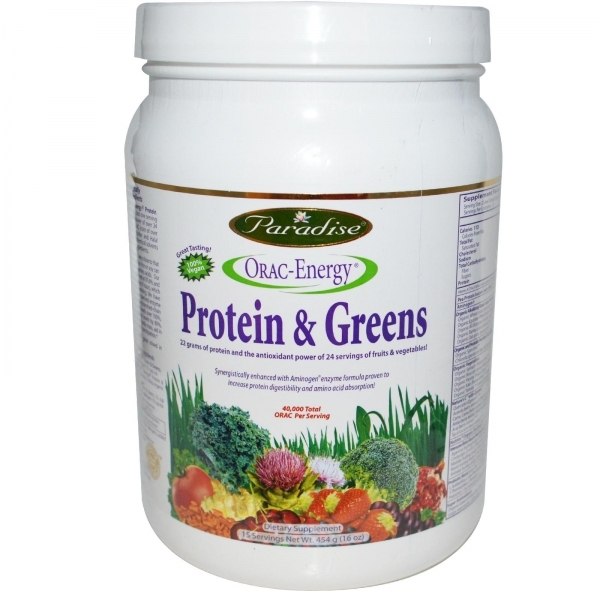 Paradise Herbs is a leader in the superfood industry. Their greens powder is one of the best selling green supplements on the market, with good reason. It contains any superfood you could think, such as probiotics, adaptogens, fruits and veggies, superfoods, medicinal mushrooms, natural fibers and enzymes, and all with no known allergens. Their Protein and Greens complex takes things up just a notch and contains the added benefits of vegan proteins from high quality organic pea protein. It contains absolutely no fillers, GMO ingredients or sweeteners, making it one of the purest products on the market. You can learn more about this product here: iherb.com
---
7

Green Foods Corporation True Vitality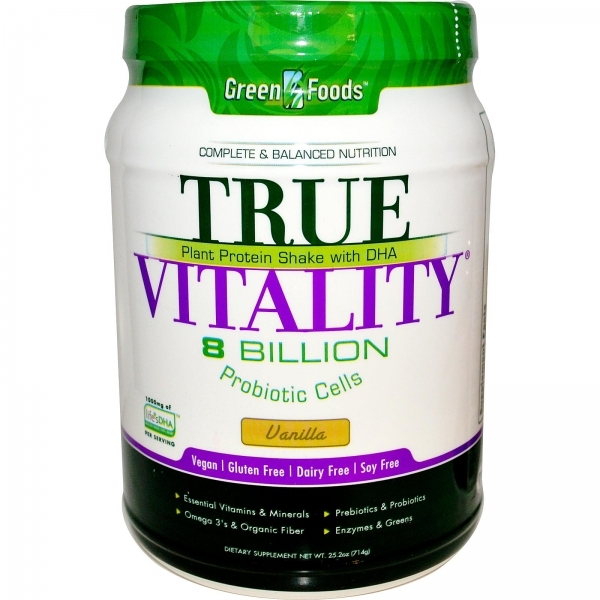 Green Foods Corporation brand may be a new company you're not aware of, but after I tell you about their meal replacement powder, you're going to definitely be looking out for this product! Their vegan meal replacement powder is one of their many fabulous nutritional powders and supplements. They offer many green superfood products, along with other high quality nutritional goodies. The meal replacement powder by Greens Foods Corporation is called True Vitality and features the benefits of most meal replacement powders mentioned here. True Vitality is a complete and natural plant protein shake with DHA, formulated for those with busy lives, people interested in weight loss and athletes. Since it is vegan, the protein sources come from pea, rice, hemp, spirulina, chlorella and barley grass juice, all super foods in themselves. It also contains added omega 3s, probiotics, enzymes, carbohydrates, greens, fiber and 100% of the RDA of the essential daily vitamins. The ingredients were scientifically formulated to work synergistically to enhance protein digestion, promote healthy digestive flora, as well as support brain, eye, heart and nervous system functioning. I highly suggest giving this superfood powder a try! It comes in a delicious chocolate flavor and a vanilla flavor. It has no added sugar, is completely allergen-free, organic and GMO-free as well. You can learn more about this product here: iherb.com.
When choosing a nutritional product such as a vegan meal replacement powder, be sure you look for one free in any allergens, one that is preferably organic and raw, and one that has no added sweeteners, MSG or any nasty fillers like maltodextrin, etc. Always be sure to read the ingredients before you buy one of these supplements so you can enjoy their amazing benefits that they can bring you. I personally find these much more convenient, sustainable and affordable per serving than I do buying more animal proteins, even though I'm not a vegan. What I appreciate about these products is they keep me full, energized and allow me to get in high quality nutrients in a fast, easy to digest formula that I wouldn't otherwise be able to, while still giving me enough calories when added to a whole foods smoothie. You can purchase these online or in stores. Do you use meal replacement powders?
Sources: gardenoflife.com, amazinggrass.com, myvega.com, olympianlabs.com, iherb.com, iherb.com, iherb.com
---
Comments
Popular
Related
Recent